Sweatshirt "New York City"
Sold by

Centre Pompidou (Impression à la demande)
Types of Clothing
Sweatshirts

Size guide
About the Artwork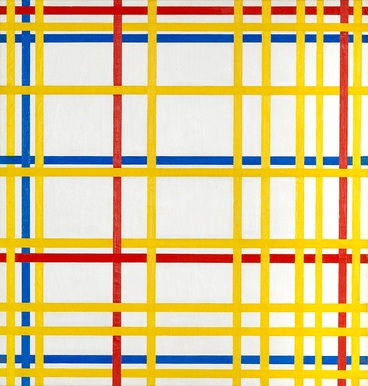 Piet Mondrian (1872-1944)
New York City (New York City I)
1942
Oil on canvas
119,3 x 114,2 cm
This painting is representative of his most recent investigations, in which he worked out his schemes by interweaving strips of coloured paper on the canvas. The differences of colours and the position of the interweaving lines give an optical energy to the whole structure.
Sweatshirt
This trendy organic crewneck cotton sweatshirt is soft to the touch and made with the greatest care to guarantee an impeccable fit and durability. With its 280 g/m², this thick and resistant sweatshirt has a French terry interior combined with a soft exterior surface for more comfort.
Printed with Ecolabel inks not harmful to the skin.
80% organic ring-spun combed cotton and 20% recycled polyester.
Comfortable fit with impeccable finishes.
Fabric weight: 280 g/m².
Visible "Hi! I'm Organic" neck tab.
Ribbed collar, cuffs and hem.
Single Jersey halfmoon in back.
Side seams and quality herringbone necktape.
Ethically sourced.