Sweatshirt "Manège de cochons"
Sold by

Centre Pompidou (Impression à la demande)
Types of Clothing
Sweatshirts

Size guide
About the Artwork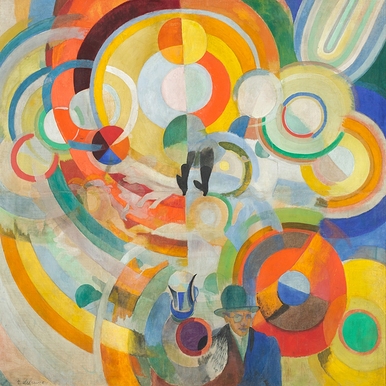 Robert Delaunay (1885-1941)
Manège de cochons (Manège électrique)
1922
Oil on canvas
248 x 254 cm
Manège de cochons is part of a series of paintings of popular modern city life scenes. The turbulent rotation of the multi-coloured circles draws the viewer into the frantic motion of a roundabout.
Sweatshirt
This trendy organic crewneck cotton sweatshirt is soft to the touch and made with the greatest care to guarantee an impeccable fit and durability. With its 280 g/m², this thick and resistant sweatshirt has a French terry interior combined with a soft exterior surface for more comfort.
Printed with Ecolabel inks not harmful to the skin.
80% organic ring-spun combed cotton and 20% recycled polyester.
Comfortable fit with impeccable finishes.
Fabric weight: 280 g/m².
Visible "Hi! I'm Organic" neck tab.
Ribbed collar, cuffs and hem.
Single Jersey halfmoon in back.
Side seams and quality herringbone necktape.
Ethically sourced.