Sweatshirt "Rythme, Joie de vivre"
Sold by

Centre Pompidou (Impression à la demande)
Types of Clothing
Sweatshirts

Size guide
About the Artwork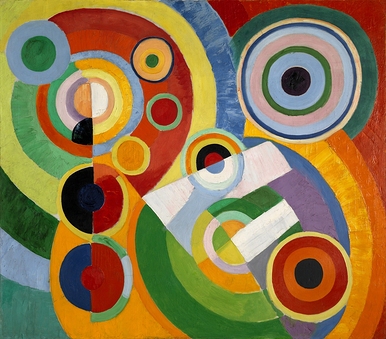 Robert Delaunay (1885 - 1941)
Rythme, Joie de vivre
1930
Oil on canvas
200 x 228 cm
About the work:
In 1930, Robert Delaunay renews with abstraction and circular forms by creating a monumental decor for Doctor Viard's living room, in Paris. This painting, Rythme, Joie de vivre, is a representation of the union between colour and non-objective art.
Sweatshirt
This trendy organic crewneck cotton sweatshirt is soft to the touch and made with the greatest care to guarantee an impeccable fit and durability. With its 280 g/m², this thick and resistant sweatshirt has a French terry interior combined with a soft exterior surface for more comfort.
Printed with Ecolabel inks not harmful to the skin.
80% organic ring-spun combed cotton and 20% recycled polyester.
Comfortable fit with impeccable finishes.
Fabric weight: 280 g/m².
Visible "Hi! I'm Organic" neck tab.
Ribbed collar, cuffs and hem.
Single Jersey halfmoon in back.
Side seams and quality herringbone necktape.
Ethically sourced.