Men's T-Shirt "Rythme, Joie de vivre"
Sold by

Centre Pompidou (Impression à la demande)
Types of Clothing
Women's T-Shirts

Size guide
About the Artwork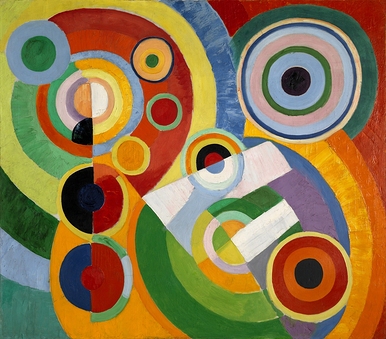 Robert Delaunay (1885 - 1941)
Rythme, Joie de vivre
1930
Oil on canvas
200 x 228 cm
About the work:
In 1930, Robert Delaunay renews with abstraction and circular forms by creating a monumental decor for Doctor Viard's living room, in Paris. This painting, Rythme, Joie de vivre, is a representation of the union between colour and non-objective art.
Men's T-Shirt
This organic cotton t-shirt is soft to the touch and made with the greatest care to guarantee an impeccable fit and durability. It is made from 100% organic spun and combed cotton for vibrant print colors.
Printed with Ecolabel inks not harmful to the skin.
100% organic cotton spun and combed.
Classic and comfortable boxy fit, with impeccable finishes.
Fabric weight: 180 g/m² (heavyweight).
Double-needle hems and neck band for durability.
Ethically sourced.